Friendschoices
RECOMMENDATION FOR TRAVEL
CUSTOM DEVELOPMENT AND WEB MARKETING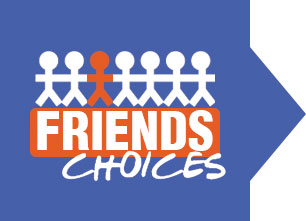 Inovadis a highly innovation-oriented company, and has created and launched several innovative websites, including Friends Choices. This is a referral site dedicated to CSP ++, who travel a lot and appreciate the "tips" of other people who resemble them and can advise them where to eat, sleep, what to visit in a given city.
Friendschoices was based on an initial thought: the dominant recommendation sites (such as Trip Advisor) are highly affected by spam and a large number of unreliable reviews.
Hence the principle of a private system, where members are real and information is reliable.
Development of the recommendation site, including a highly advanced back office.
Possibility to recommend links, but also itineraries in a city.
Access by login or directly by facebook.
Recommendations mapping system.
Version of the site in responsive web design
Interfacing with the domain's wikipedia databases to multiply the amount of accessible information.
Transcript of the site into a mobile application.
Guidance in the definition of the traffic acquisition strategy
Writing meta data content (SEO)
Monitoring, Analysis and Optimization of Results
Animation of the social profiles of Friends Choices (Facebook, Google +, Pinterest …)
Technical recommendations to increase Google's website rating
Design and ergonomics of newsletters
SOLUTION TECHNIQUE DEPLOYéE
Own Framework based on OpenSource LAMP (Linux, Apache, Mysql, PHP).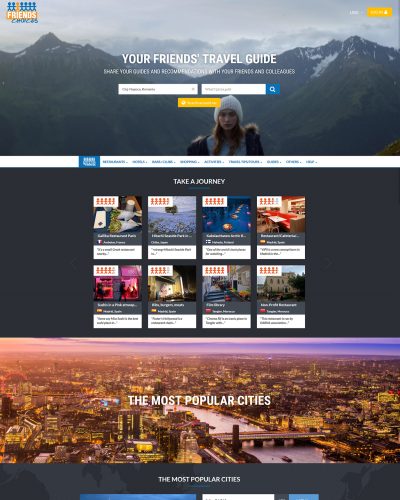 Homepage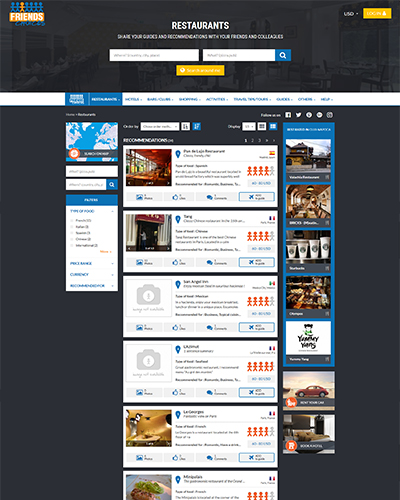 Search page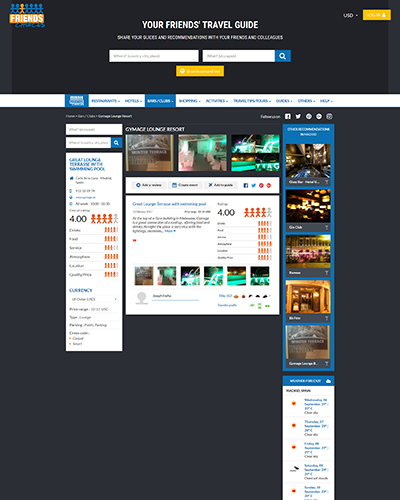 Detail